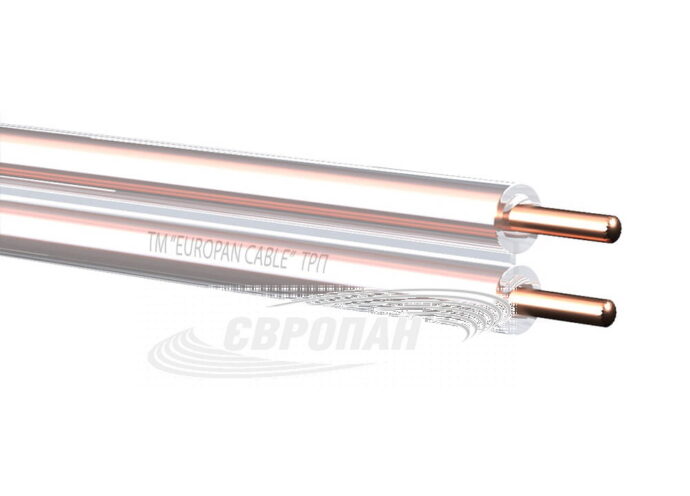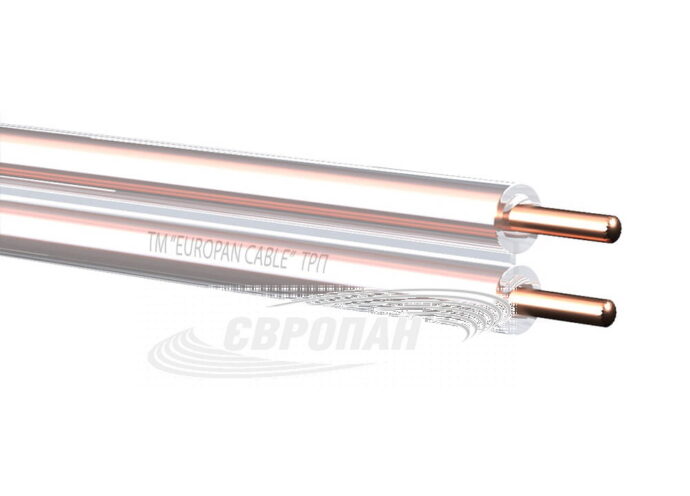 TRP, TRV
Technical Conditions U 27.3-39543889-005:2019
TRP, TRV are the single-pair telephone distribution wires with copper conductors, polyethylene or polyvinyl chloride insulation.
They are designed for stationary subscriber wiring of a telephone distribution network with a rated voltage of up to 145 V DC with a frequency of 50 Hz or a voltage of 200 V DC.
Share
Minimum service life is for external laying - 12 years
with internal laying - 25 years

Guaranteed service life is 3 years
Minimum bending radius 10 x outer diameter
Breaking strength, N, not less - 2x0.4 - 48.0; 2x0.5 - 73.5
Temperature range For wires of the TRP brand
installation: not lower than -30°C
operation: from -60°C to +65°C

TRV wires
installation: not lower than -15°C
operation: form -40°C to +65°C
Interpretation of wires TRP, TRV
T – telephone;
R – distribution;
P – polyethylene insulation;
B – PVC-compound insulation.
Design
Conductors: copper
Insulation: TRP – polyethylene; TRV – PVC compound
Armor: no
| Number of pairs | Nominal diameter of conductors, mm |
| --- | --- |
| 2 | 0,4; 0,5 |
Detailed description
TRP is a single-pair telephone distribution wire with copper conductors and polyethylene insulation
TRV is a single-pair telephone distribution wire with copper cores and PVC insulation.
Applicability scope
TRV and TRP belong to the group of telephone distribution wires intended for fixed hidden and open subscriber wiring of the telephone distribution network, installation of telephone lines inside or outside the premises (depending on the insulation material), as well as for charging boxes in distribution conduits for subscriber wiring and connection of telephone devices. TRV and TRP allow connecting stationary communication devices from audio intercoms, mini automatic telephone exchanges or distribution boxes. And also TRV is often used when wiring alarm systems, due to the white color of the sheath, which is hardly distinguishable on the ceilings.
Despite their name, as wires for telephony, TRP and TRV are gradually losing their value due to the lack of twisting and, accordingly, poor security when using high-speed connections, as well as due to the decrease in the number of fixed telephones. At the same time, they remain the most common wires for use in communication and signaling systems.
The informal name of the wires is «noodles» and they are laid mainly inside buildings in an open or closed way. In the first case, the wires are attached to the surface of walls, ceilings and baseboards using staples or small nails between the conductors. And in the case of hidden installation, they are laid in trays or laid in grooves or under plaster.
Design
The design of TRV and TRP is based on single-wire copper conductors made of soft wire with a diameter of 0.4 and 0.5 mm. Two insulated conductors are located in parallel in the same plane and have a separating strip base between them. The flat base of the insulation secures each conductor securely, preventing them from touching.
The main difference between the TRV and TRP wires is in the insulation material. The TRV wire is made with polyvinyl chloride insulation and is used for laying telephone lines only indoors, while the TRP is made using polyethylene insulation, which is more resistant to environmental influences and can be laid both indoors and along the outer walls of buildings and structures. The color of the insulation is mostly natural or white.
Operation
Installation of wires with polyethylene insulation (TRP) should be carried out at a temperature not lower than -30°С, and wires in an insulated PVC sheath (TRV) – not lower than -15°С.
The bend radius must be at least 10 minimum outer dimensions of the wire. The breaking force of wires with a conductor of 0.4 mm is 48 N (4.9 kgf), and with a conductor of 0.5 mm – 73.5 N (7.5 kgf).
TRV wires are designed for operation at ambient temperatures from -40 °C to +65°C, and TRP can withstand from -60°C to +65°C.
The minimum service life for outdoor installation is 12 years, and for indoor installation is 25 years.
EUROPAN Cable Plant produces high-quality TRP and TRV wires for stationary subscriber wiring of the telephone distribution network. Here you can select and wholesale telephone distribution wires, certified in accordance with the legislation of Ukraine, as well as other cable and wire products. Power cables, control cables, wires and cords for various purposes – this is not a complete list of products presented on our website. By purchasing from the manufacturer, you get the lowest prices, fast and convenient delivery throughout Ukraine and the CIS countries, as well as the manager's consultation on all technical and organizational issues that arise.
Nomenclature and mass-dimensional characteristics
Number of conductors and their nominal diameter, mm

Maximum outer dimensions, mm

Estimate weight of 1 km of wire, kg

 
высота
ширина
 
2х0,4
2,2
6,4
9
2х0,5
2,3
6,6
10