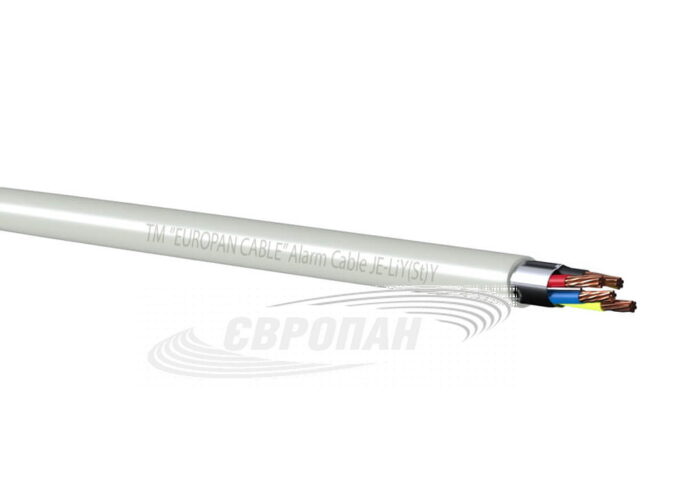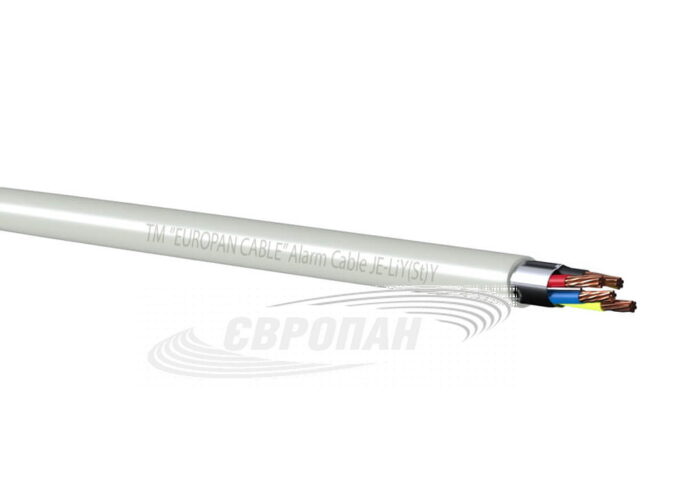 Alarm Cable JE-LiYY, Alarm Cable JE-LiYYU, Alarm Cable JE-LiY(St)Y, Alarm Cable JE-LiY(St)YU
The National Standards of Ukraine IEC 60227-7:2005
Alarm Cable JE-LiYY, Alarm Cable JE-LiYYU, Alarm Cable JE-LiY(St)Y, Alarm Cable JE-LiY(St)YU are signal cables are used for transmitting control and measuring signals in various communication and security systems.
They are designed to connect various elements in security and fire alarm systems, access control systems, control and communication:
connection of sound and motion sensors;
in intercom video surveillance systems: intercoms, video cameras, various video panels;
for fire alarms: connection of heat detectors and smoke detectors.
The cables can be laid both indoors and outdoors. For outdoor use, it is recommended to use pipes or hoses
Share
Minimum service life is 10 years
Guaranteed service life is 12 months
Minimum bending radius 8 x outer diameter
Temperature range installation: not lower than -15°С
operation: from -40°С to +50°С
Interpretation of cables Alarm Cable JE-LiYY, Alarm Cable JE-LiYYU, Alarm Cable JE-LiY(St)Y, Alarm Cable JE-LiY(St)YU
J – communication and signaling cable for fixed installation;
Li – multi-wire stranded conductor;
Y – PVC compound insulation;
(St) – general screen;
Y – PVC compound sheath;
U – sheath made of low-flammability PVC compound.
Design
Conductors: copper
Insulation: PVC compound
Armor: no
| Number of conductors | Nominal cross-section of conductors, mm2 |
| --- | --- |
| 2; 4;  6; 8; 10; 12 | 0,22 |
Detailed description
Alarm Cable is one of the most widespread and popular signal cables used for transmitting control and measuring signals in various communication and security systems.
Applicability scope
Signal cables Alarm Cable are designed to transmit low power electrical signals to devices of various control systems.
They are used to build fire and security alarm systems, organizing access control systems, communication and management. In particular, for connecting sound and motion sensors, fire detectors for smoke and heat, in intercom systems and video surveillance systems.
The Alarm Cable is shielded and unshielded by design. Unshielded cables are the most commonly used burglar alarm cables in both residential and commercial buildings. They are used for installation in rooms where there are no large electromagnetic radiation and for laying far from power wiring, lighting and household appliances.
Shielded cables are better protected from electromagnetic and radio frequency interference, which can blur or destroy data and cause false alarms. They are used for laying near power transmission lines, high-voltage lines, electrical appliances and other sources of electromagnetic radiation that adversely affect the transmitted signal.
They are manufactured with stranded copper conductors, so they are flexible, lightweight, and mechanically resistant, and are ideal for indoor installations under skirting boards or along walls with multiple bends. They can also be used for outdoor installation using pipes and hoses.
Design
The design of Alarm Cable is based on a multi-wire copper conductor with a cross-section of 0.22 mm2 in the PVC insulation with color-coded conductors. The shield is made of alumoflex, and the drainage conductor is made of copper wire. The outer sheath of the Alarm Cable JE-LiYY and JE-LiY(St)Y is made of polyvinyl chloride plastic (PVC), and the sheath ofthe Alarm Cable JE-LiYYU and JE-LiY(St)YU are made of low flammability PVC.
An additional shield in the design of Alarm Cable JE-LiY (St) Y and JE-LiY(St)YU protects cables from electromagnetic interference from outside and from the inside, which makes it possible to lay cables in rooms where a lot of equipment with powerful electric motors works. Also, a shielded cable is used to ensure high-quality operation of video surveillance cameras and computer equipment, with high requirements for signal quality.
Operation
Alarm Cables are designed for use in ambient temperatures ranging from -40°C to +50°C. Their installation is carried out at a temperature not lower than -15°C.
The minimum bending radius of the cables must be at least 8 cable outer diameters.
The minimum service life is 10 years.
The guaranteed service life is 6 months which is calculated from the date of putting the cables into operation, but not later than 12 months from the date of manufacture.
EUROPAN Cable Plant produces Alarm Cable for low-current systems of access, communication and security, connection of high-quality intercoms and motion sensors, certified in accordance with the legislation of Ukraine. The detailed information on the technical characteristics of the Alarm cable, as well as other cable and wire products, is presented on our website. Here you can select, order and buy the necessary goods in bulk from stock and custom-built. Our managers will advise you on any issues related to the purchase, help you gain insight on  the variety of products, place an order and delivery to anywhere in Ukraine.
Nomenclature and mass-dimensional characteristics