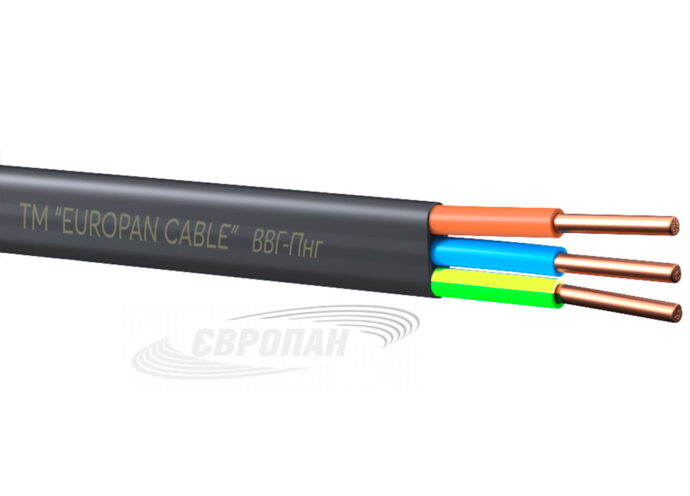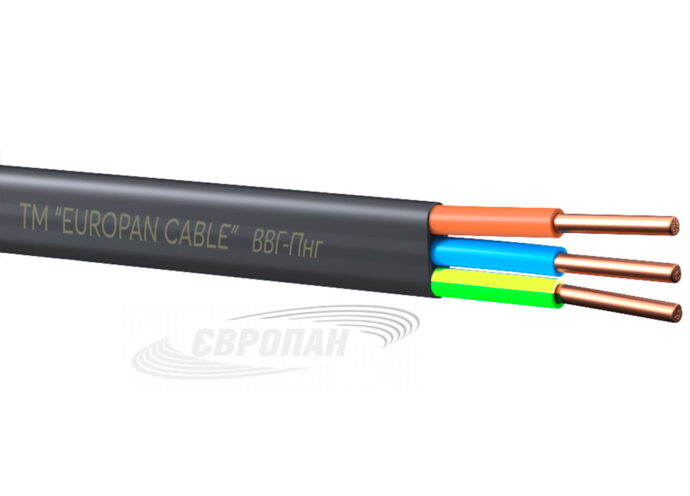 YDYp
Standart: HD 603 S1: 1994/A3:2007, EN 60332-1-2:2004/A:2015
YDYp are flat power cables with copper conductors, PVC insulation and sheath.
They are designed for the transmission and distribution of electrical energy in stationary installations for a rated alternating voltage 0.66 and 1 kV, with a frequency of 50 Hz.
They are used for laying under plaster, laminate, concrete and gypsum, in hidden wiring, for single laying in skirting wiring ducts, pipes and trays, as well as in places where space saving is important.
They are not recommended for the laying the ground trenches.
Share
Minimum service life is 30 years
Guaranteed service life is 5 years
Minimum bend radius 10 x outer diameter
Temperature range installation: not below -15°С
operation: from -50°С to +50°С

Design
Conductors: copper single-wire of the 1st flexibility class (class 1 DSTU EN 60228)
Insulation: PVC compound
Armor: no
Rated voltage, kV
0,66
1
Number of conductors
Nominal cross-section area of the key conductors, mm2
2, 3
1,5 — 10
1,5 — 10
Detailed description
YDYp is a type of cable YDY but with flat design. A specific feature of this brand is the parallel laying of conductors in one plane, that determined the scope of its use.
 Applicability scope
YDYp is suitable for laying under plaster, laminate, concrete layer, in gypsum plasterboard recesses, in skirting wiring ducts, pipes and cable trays, for installation of hidden wiring and in places where space saving is important. It is used for laying wiring in apartments and offices, industrial premises, in dry channels and tunnels, on special cable trays, in blocks. It can be used for installation in an aggressive environment and outdoors with the use of protection against mechanical damage.
 Design
The design of YDYp is based on copper single-wire conductors of the 1st flexibility class (class 1 of DSTU EN 60228). The use of solid conductors allows this cable to be laid only for stationary conditions without permanent bends. The number of conductors is 2 or 3 with a cross section from 1.5 to 10 mm2. The conductors are insulated with PVC compound and laid in one plane. There is a polyvinyl chloride sheath over the conductors. The insulation of conductors usually has solid color marking, less often one may meet longitudinal stripe marking. The insulation of the neutral conductor is blue, and the ground conductor is yellow-green. The cross-section of the conductors is usually the same, although in three-conductor cables the grounding conductor may be smaller.
Operation
The operating temperature of the cable is from -50°C to +50°C. And with a relative humidity of up to 98% and a temperature not higher than +35°C. The laying of the cable without preheating is permissible at a temperature not lower than -15°C.
The minimum bend radius during installation must be at least 10 outer cable diameters. Long-term permissible conductor heating temperature during operation should not exceed 70°C. At short-circuit currents, the cable can withstand 160°C, and in an overload mode – 80°C.
The service life of YDYp reaches 30 years. The guaranteed service life is 5 years.
On the website of EUROPAN LLC you can buy high quality cables YDYp, certified in accordance with Ukrainian legislation. As a direct manufacturer, we can offer low prices. And our consultants will help you to find the right product with suitable characteristics and optimal delivery terms. To order products and consultations, you can contact the specialists of EUROPAN LLC at the numbers indicated on the website.
Permissible short circuit currents of cables
| | |
| --- | --- |
| Nominal conductor cross-section, mm² | Permissible current of one-second short circuit of cables, kA |
| 1,5 | 0,17 |
| 2,5 | 0,27 |
| 4,0 | 0,43 |
| 6,0 | 0,65 |
| 10 | 1,09 |