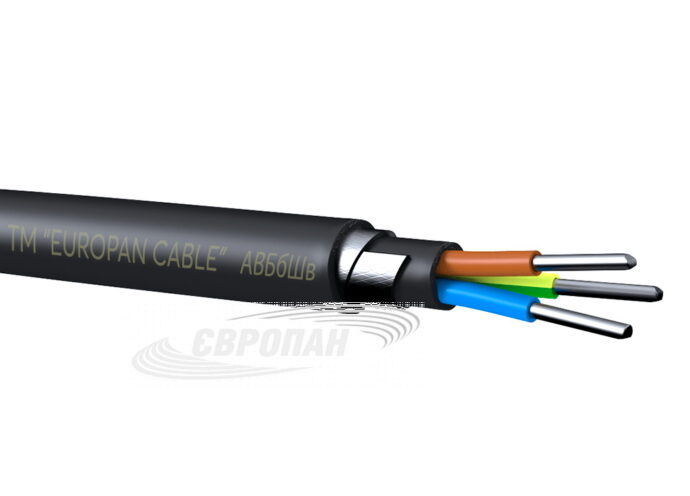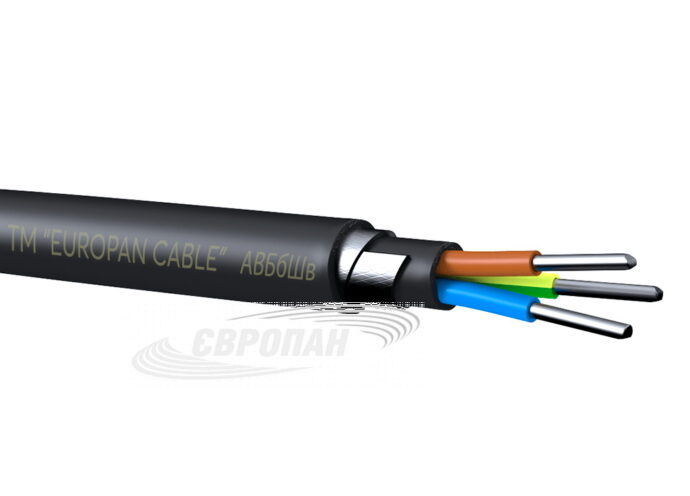 yAKYFtY, yAKYFtYn
yAKYFtY, yAKYFtY are the armoured power cabels with aluminium conductors, polyvinylchloride (PVC) insulation and BbSHv – type protective coating.
Designed for transmission and distribution of the electric power in stationary installations for a rated alternating voltage of 660 and 1000 V with a frequency of 50 Hz.
They are used for laying in earth trenches, rooms, tunnels, canals, mines (except for laying in blocks), and partially flooded structures with various corrosion conditions, as well as outdoors, if the cable does not undergo significant tension strain, but if there is a danger of mechanical damage during operation.
Share
Minimum service life is 30 years
Guaranteed service life is 5 years
Minimum bend radius 7.5 x outer diameter
Temperature range installation: not below -15°С
operation: from -50°С to +50°С
Design
Conductors: aluminum solid and multi wire of the 1st or 2d flexibility class, round and sector (class 1, 2 DSTU EN 60228)
Insulation: polyvinylchloride compound, PVC hose type sheath
Armor: galvanized steel bands
Rated voltage, kV
0,66
1
Number of cores
Nominal cross-section area of the key conductors, mm2
1
10 — 50
10 — 240
2, 3, 4, 5
2,5 — 50
2,5 — 240
YAKYFtY is a power cable with aluminum conductors, polyvinyl chloride insulation, space-filling polyvinyl chloride plasticizer, and a protective sheath in the form of armor made from galvanized steel strips. It also has a protective sheath made of polyvinyl chloride plasticizer. It is designed for the transmission and distribution of electrical energy in stationary installations at a nominal alternating voltage of 0.66; 1 kV with a frequency of 50 Hz.
Application Area
Applicability scope
Durable and cost-effective armored cable YAKYFtY is widely used for installation in underground trenches, indoor spaces, tunnels, cable channels, and mines (except for installation in blocks). It is used in metro structures, for electrifying private houses and summer cottages by laying the network underground to the building. It can also be used in partially submerged structures with varying corrosive conditions and in open air, as long as the cable is not subjected to significant tensile forces, but there is a risk of mechanical damage during operation. It is resistant to fire spread when installed individually.
The marking YAKYFtYn with an additional index "n" indicates that the cable's outer sheath has reduced flammability in case of a fire. YAKYFtYn cables are used in fire-hazardous areas and can be used for group installation.
Construction
The cables are primarily composed of aluminum single-core or multi-core conductors, circular or sector-shaped (class 1, 2 according to DSTU EN 60228). The conductor insulation is made of polyvinyl chloride plasticizer. Insulated conductors are twisted together and enclosed in a PVC sheath. In multi-core cables, the conductors have distinct coloring or digital marking. The space between the conductors is filled with polyvinyl chloride plasticizer. The armor is made of galvanized steel strips, and the outer sheath is made of extruded PVC.
Design
The cable design is based on aluminum solid and multi wire conductors, round or sector-shaped (class 1, 2 DSTU EN 60228). The conductors are insulated with PVC compound. Insulated conductors are stranded and placed in a PVC sheath. In multi-wire cables, the conductors are distinctively colored or digitally marked. The armor is made of galvanized steel bands and the outer sheath is made of extruded PVC.
Operation
YAKYFtY(АВБбШвз) and YAKYFtYn(АВБбШвзнг) cables are nearly unaffected by climatic conditions. They are designed for stationary operation at temperatures ranging from -50°C to +50°C and relative air humidity of up to 98% at temperatures not exceeding +35°C. Installation without preheating is allowed at temperatures not lower than -15°C.
The minimum bending radius during installation should be no less than 7.5 times the outer diameter of the cable. The maximum allowable conductor heating temperature in the cable is 70°C, in emergency mode, it's 80°C, and in the case of short-circuit currents, it's 160°C.
The cable's service life is at least 30 years, with a warranty period of 5 years.
Permissible short circuit currents of cables
| | | | |
| --- | --- | --- | --- |
| Nominal conductor cross-section, mm² | Permissible current of one-second short circuit of cables, kA | Nominal conductor cross-section, mm² | Permissible current of one-second short circuit of cables, kA |
| 2,5 | 0,18 | 50 | 3,38 |
| 4,0 | 0,29 | 70 | 4,95 |
| 6,0 | 0,42 | 95 | 6,86 |
| 10 | 0,70 | 120 | 8,66 |
| 16 | 1,13 | 150 | 10,64 |
| 25 | 1,81 | 185 | 13,37 |
| 35 | 2,50 | 240 | 17,54 |
Nomenclature and mass-dimensional characteristics