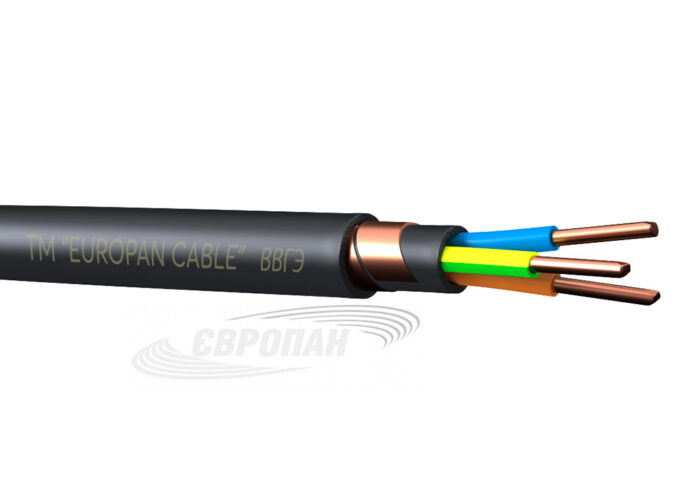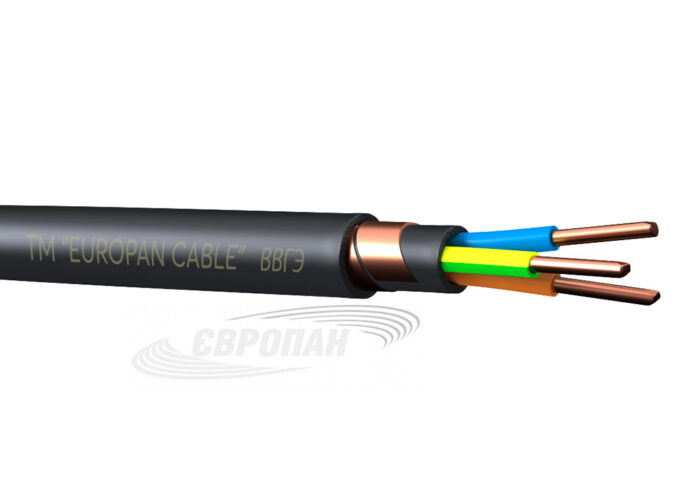 NYCY
Standart: HD 603 S1: 1994/A3:2007, EN 60332-1-2:2004/A:2015
NYCY are power cables with copper conductors, PVC insulation and sheath, shielded.
They are designed for the transmission and distribution of electricity in stationary electrical installations for a rated alternating voltage of 0.66 and 1 kV with a frequency of 50 Hz.
They are intended for laying in dry and damp industrial premises, on specialized cable tray systems, in blocks and for outdoor wiring, where it is necessary to protect electrical circuits from the influence of external electromagnetic fields.
Due to the lack of the armor, it is not recommended to lay cables of this brand in the ground while the laying in trenches is allowed only using additional protection against mechanical damage
Share
Minimum service life is 30 years
Guaranteed service life is 5 years
Minimum bending radius Single-conductor cable: 10 x outer diameter
Multi-conductor cable: 7.5 x outer diameter

Temperature range installation: not below -15°С
operation: from -50°С to +50°С
Design
Conductors: copper single-wire or multi-wire of the 1st or 2d flexibility class (class 1 and 2 DSTU EN 60228)
Insulation: PVC compound
Armor: no
Rated voltage, kV
0,66
1
Number of conductors
Nominal cross-section area of the key conductors, mm2
1
1,5 — 50
1,5 — 1000
2, 3, 4, 5
1,5 — 50
1,5 — 240
Detailed description
NYCY is a power cable with copper conductors, PVC insulation and sheath, shielded. It is designed for the transmission and distribution of the electricity in stationary electrical installations for a rated alternating voltage of 0.66 and 1 kV with a frequency of 50 Hz.
Applicability scope
NYCY is one of the most durable, highly reliable and resistant to mechanical deformation type of power cables. Its feature is a shield that prevents the propagation of interference-carrying electric and magnetic fields. The cable is used for indoor and outdoor wiring, installation in household and industrial premises, various devices and machines, for laying in wiring ducts and in the open air in conditions that exclude the impact of mechanical damage and significant tension strain. In case of single laying, the cable is flame-retardant.
At the same time, there are varieties of VVGE made of non-combustible materials. Such cables are marked with indices «ng» and «ngd». Due to the special sheath production technology, VVGEng and VVGEngd cables are flame-retardant and used in places with a high risk of fire.
Design 
According to the design, it is a cable with round copper conductors of the 1st or 2d flexibility class (class 1, 2 DSTU EN 60288), with number ranging from 1 to 5. The insulation of the conductors and the outer sheath are made of PVC compound. And the shield can be made of aluminum foil or in the form of copper wires fastened with copper band. In multi-conductor cables, the conductors are stranded, and their insulation is color-coded or numerically coded. 
Operation
The operation of NYCY is allowed in a stationary state at temperatures from -50°C to +50°C and relative air humidity up to 98% at a temperature not exceeding +35°C. The installation without preheating of the cable is possible at a temperature not below -15°C.
The permissible bend radius during installation for a single-conductor cable is not more than 10 external cable diameters, for a multi-conductor cable – 7.5 diameters. The allowable tension strain of cables along the route of laying should not exceed 50 N/mm2 of the conductor cross-section.
The long-term permissible heating temperature of cable conductors during operation is 70°C, the maximum permissible temperature at short-circuit currents is 160°C, and in an emergency mode – no more than 80°C.
Cables serve for at least 30 years. The guarantee service life is 5 years.
EUROPAN Cable Plant is a reliable domestic manufacturer of cable and wire products. Our website presents cables NYCY and NAYCY of various label sizes, certified according to the legislation of Ukraine and meeting the international quality standards. Our product is safe for people. It ensures trouble-free operation of power grids and connected equipment, long service life, as well as cost savings. Buying from the manufacturer, you get the most favorable prices, and our managers will advise you on all issues.
Permissible short circuit currents of cables
| | | | |
| --- | --- | --- | --- |
| Nominal conductor cross-section, mm² | Permissible current of one-second short circuit of cables, kA | Nominal conductor cross-section, mm² | Permissible current of one-second short circuit of cables, kA |
| 1,5 | 0,17 | 120 | 13,21 |
| 2,5 | 0,27 | 150 | 16,30 |
| 4,0 | 0,43 | 185 | 20,39 |
| 6,0 | 0,65 | 240 | 26,80 |
| 10 | 1,09 | 300 | 33,49 |
| 16 | 1,74 | 400 | 39,60 |
| 25 | 2,78 | 500 | 49,50 |
| 35 | 3,86 | 625 | 62,37 |
| 50 | 5,23 | 800 | 79,20 |
| 70 | 7,54 | 1000 | 99,00 |
| 95 | 10,48 | – | – |