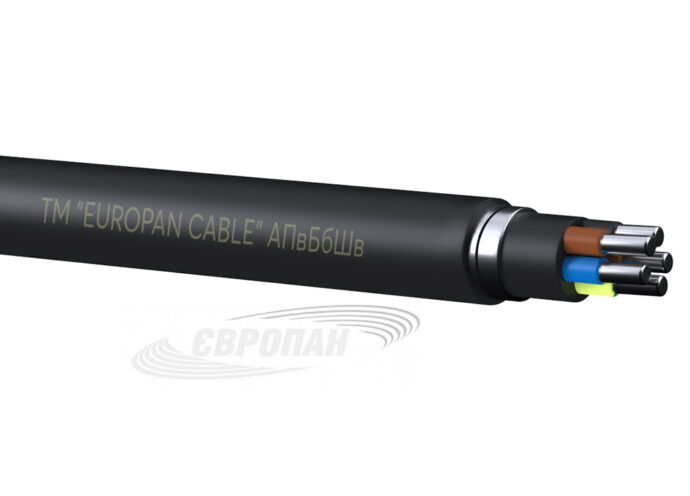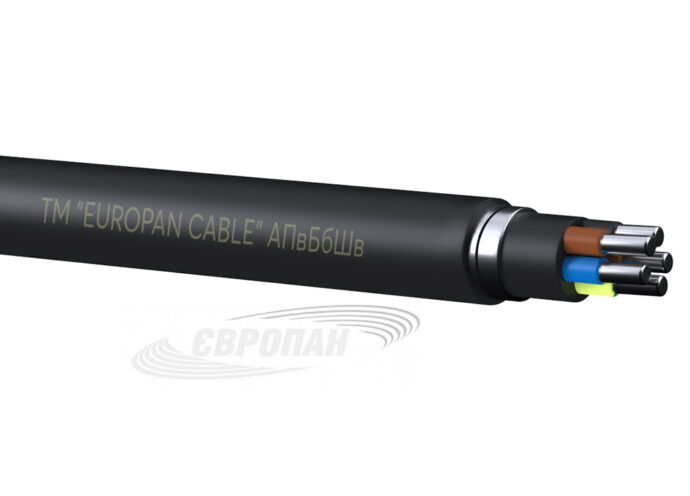 NA2XBY
Standart: HD 603 S1: 1994/A3:2007, EN 60332-1-2:2004/A:2015
APvBbSHv, APvBbSHvng, ApvBbSHvngd are the power cables, armoured with steel bands. They have the aluminum conductors, the insulation made of cross-linked polyethylene (XLPE) and the PVC protective hose.
They are designed for transmission and distribution of electrical energy in stationary installations for a rated alternating voltage of 0.66 and 1 kV, with a frequency of 50 Hz.
They are used for laying in the ground (in trenches), rooms, tunnels, channels and partially flooded structures with various corrosive conditions, as well as outdoors, if the cable is not subjected to significant tension strain, but there is a risk of mechanical damage during operation
Share
Minimum service life is 30 years
Guaranteed service life is 5 years
Minimum bending radius Solid cable: 10 x outer diameter
Multi conductor cable: 7.5 x outer diameter

Temperature range installation: not below -15°С
operation: -50°С to +50°С
Design
Conductors: aluminum single-wire or multi wire of the 1st or 2d flexibility class, round or sector shape (class 1, 2 DSTU EN 60228)
Insulation: cross-linked polyethylene, hose-type sheath of PVC compound
Armor: steel galvanized bands
Rated voltage, kV
0,66
1
Number of conductors
Nominal cross-section area of the key conductors, mm2
1
10 — 50
10 — 240
2, 3, 4, 5
2,5 — 50
2,5 — 240
Detailed description
NA2XBY is a power cable armoured with the steel bands, with the aluminum conductors, the insulation made of cross-linked polyethylene (XLPE) and the PVC protective hose. It is designed for transmission and distribution of electrical energy in stationary installations for a rated alternating voltage of 0.66 and 1 kV, with a frequency of 50 Hz.
Applicability scope
NA2XBY cable is used for the stationary laying in places where the protection from mechanical damage is required. At the same time, significant tension strains should be avoided. NA2XBY is used in earth trenches with various corrosive and chemical activity, and the leakage currents. In addition, it is used in conditions of high humidity, salt marshes, swamps, among a large amount of construction waste and slag, save for the subsiding soils. It is used for the laying of single cable lines in cable structures, dry and damp rooms, on overhead trays, in blocks, tunnels, channels, cable cellars, collectors, partially flooded structures with various corrosive conditions. It could be installed overhead, without limiting the level difference along the laying route. It is suitable for installation of vertical sections, provided that there is no mechanical damage during operation.
NA2XBY belongs to flame-retardant cables provided a single laying. In case of a group laying, it is necessary to use fireproofing.
There are varieties of NA2XBY, which are used in places with a high probability of fire and  higher fire safety requirements. The cable with the index "ng" is made using special PVC, which does not spread combustion. And the cable with the index "ngd" not only does not support combustion, but also has low smoke emission when exposed to high temperatures. Due to the specified properties, NA2XBY can be used when laying in bundles.
Design
The main structural element of NA2XBY is an aluminum multi wire or single-wire conductor, with the 1st or 2d flexibility classes, of round or sector shape (class 1, 2 DSTU EN 60228). The insulation of the conductors is made of the silane-crosslinkable polyethylene with solid color or stripe marking. Also, the numerical  marking could be used. It is applied to the coating surface by embossing or printing. Insulated conductors are stranded into a core around a PVC-compound or unvulcanized rubber bundle. Two-conductor and three-conductor cables NA2XBY have all conductors of the same cross-section. Four-conductor and five-conductor cables can be produced with a neutral conductor or an earth conductor of a smaller cross-section. The сable is armoured with two steel galvanized bands that overlap each other. The outer sheath is in the form of a hose extruded from PVC compound.
Operation
The operating temperature of NA2XBY ranges from -50°C to +50°C. Air humidity during operation should not exceed 98% at a temperature of +35°С. The installation is carried out at a temperature not lower than -15°С; at lower temperatures, it is necessary to preheat the cable.
The minimum bend radius during the installation of multi conductor NA2XBY should be at least 7.5 outer cable diameters, and 10 outer cable diameters for the single conductor ones. 
The operational thermal stability of the cable increased due the use of vulcanized polyethylene as an insulation, as well as during overloads and short circuits. Thus, the long-term heating temperature of the conductors is 90°C, at short-circuit currents – 250°C, and in the overload mode – 130°C.
The service life is at least 30 years, while the guaranteed service life is 5 years.
On the website of EUROPAN LLC you can select and buy an aluminum armoured cable NA2XBY, as well as its copper analogs of various label sizes. The cables meet all requirements and are certified in accordance with the legislation of Ukraine. When purchase the wiring products from us, you can be sure of the safety of power lines, the favorable prices and the purchase terms. Our managers will help you to gain insight on the variety of cable products and advise on all issues raised. 
Permissible short circuit currents of cables
| | | | |
| --- | --- | --- | --- |
| Nominal conductor cross-section, mm | Permissible current of one-second short circuit of cables, kA | Nominal conductor cross-section, mm | Permissible current of one-second short circuit of cables, kA |
| 2,5 | 0,22 | 50 | 4,18 |
| 4,0 | 0,36 | 70 | 6,12 |
| 6,0 | 0,52 | 95 | 8,48 |
| 10 | 0,87 | 120 | 10,71 |
| 16 | 1,40 | 150 | 13,16 |
| 25 | 2,24 | 185 | 16,53 |
| 35 | 3,09 | 240 | 21,70 |